But wait, lets go a little further. We usually write that off in our perception aspect of our mind, saying, "the hope of glory." Some glad morning we shall see Jesus in the air, but until such time you're going to have to walk along here and have some glory. Let me try it again. Glory refers to that which exceeds, or excels.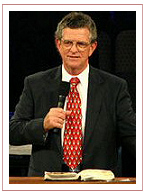 By Jeff W. Arnold
To View the Entire Article, Click Here
To Download the Entire Article Directly to Your Computer, Click Here
To View the Outline, Click Here
To View the PowerPoint, Click Here

Hebrews 3:1, "Wherefore, Holy brethren, partakers of the heavenly calling, consider the apostle and the High Priest of our profession, Christ Jesus; (2) Who was faithful to Him who appointed him, as also Moses was faithful in all his house. (3) For this man was counted worthy of more glory than Moses, in as much as he who hath builded the house hath more honor than the house. (4) For every house is builded by some man; but he that hath built all things is God. (5) And Moses verily was faithful in all his house as a servant, for a testimony of those things, which were to be spoken after. (6) But Christ as a son over his own house…" this is what I want you to get, "…whose house are we, if we hold fast the confidence and the rejoicing of the hope firm unto the end."
I am overwhelmed by the fact that we somehow have yet to grasp what it really means to be the house of God, the building of God, the temple of God. Remember in John 1:4, "In my Fathers house are many mansions…" That does not apply just to Heaven, because he called the temple that he walked into and said, " You have made my Father's house a den of thieves" His Fathers house…so his perception was that the temple where God supposedly dwells is God's house. While there is a heavenly house per se in another sphere; I've tried to show you that when the believer is filled with the Holy Ghost, that person becomes the living tabernacle, temple, dwelling place, sanctuary, house of God. This church building is only mortar and tile and air conditioning and carpet. This is just where the house of God gathers together in a big house. But the building is not the house, because Acts says that God dwelleth not in temples made by hands.
Showing Forth The Glory Of God
I've showed this to you; that the purpose for the house of God was for His glory. I want to go over that a little bit with you —His glory. I've told you that His glory is the exhibition of the excellence of a subject. Remember that? The glory is the fame, or the renowned. The condition of high is achievement, but I've got more on it. Glory also refers to that which exceeds, or excels. The glory of a craftsman is his ability to take an ordinary object and carve it, create it, paint it, shape it, and form it into something extraordinary. The glory of an athlete is their ability to seize the moment and turn the situation into something magnificent; a great catch, a home run, a touchdown, a score of a goal in hockey, or volleyball, or whatever. Creation, according to the Psalm 19:1 is a revelation and a reflection of God's glory. "The heavens declare the glory of God and the earth showeth forth His handiwork." In Psalm 93:1 it says that the Lord himself is clothed in majesty and glory. When the heavens declare the glory of God, or they show His exceedingness, His excellence, His majesty; that is shown, whether it is in a snowflake, or a galaxy. In the massive or the minute', God's excellence is on display.
Now you got to get what I'm trying to tell you. His glory is His excellence. It's His majesty, His ability to excel beyond anything or anybody. Now the Bible says that the glory of God was manifested in the face of Jesus. He was the tabernacle of the glory. In Exodus 25 and 40 and 1 Kings.
To View the Entire Article, Click Here
To Download the Entire Article Directly to Your Computer, Click Here
To View the Outline, Click Here
To View the PowerPoint, Click Here