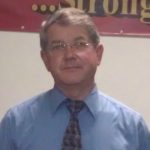 NOTE: This article has been compiled to provide information about Fathers' First, an innovative and time-proven program, with hopes that others will be able to implement the program for their church and/or community to help men become good fathers.
==========================================
Bedraggled and destitute, the homeless man stumbled into the meeting room. His unexpected entry diverted the group's attention from Dr. Joe's opening comments. To regain attention, Dr. Joe told the man to be seated and he would talk with him after the meeting. The man slumped into a chair, and Dr. Joe continued with his planned lesson for Fathers First.
That evening at Fathers First became the turning point in this destitute man's life. Robert heeded the words of Dr. Joe: "If you'll go to church. God can help you." Along with attending church, Robert enrolled in Fathers First. The preached Word and Dr. Joe's Fathers First lessons indeed transformed Robert to a new man in Christ Jesus. After six years of faithful attendance in church and Fathers First, Robert and his ex-wife, who also came into the church, remarried in 2010 in an impressive church ceremony. Together, they now provide a God-honoring home for their two children. God indeed made dramatic changes in Robert and ultimately in his family.
Father's First was birthed from the compassionate heart of Dr. Joe Cassady, member of Truth Tabernacle, Marysville, CA, who serves as the Yuba County Health Officer. After one year of involvement with the ACTS program at Truth Tabernacle, Dr. Joe envisioned an expanded program to help men. He states that to change families, neighborhoods, and communities, men must be changed. That change must be built on biblical principles of "change from the inside out." Sponsored as a Truth Tabernacle church outreach, Dr. Joe has impacted the greater Yuba County area with this program. Well known in the community for its success, various agencies and churches direct men to the program.
Fathers First classes have been conducted weekly since 1994 at the church with an extension study in the county jail. The program runs for six months with a graduation for the men who complete the course. However, men often choose to continue in the program after their graduation. Dr. Joe developed the curriculum and does much of the teaching, but he also uses other professionals to address special needs. Anyone desiring to implement a Fathers First program for their church or community can feel free to contact Dr. Joe for curriculum helps or further details about the program via his email address listed above. If you would like to chat with him, you can provide him with a phone number where he could reach you at his convenience. Though he keeps a rigid schedule as a doctor, he is a great soul winner and delights in sharing strategies for winning the lost.
Dr. Joe would also be glad to share with you his insights about jail ministry. From January through September of 2011 he has baptized 42 men in the Name of Jesus' in the county jail. Dr. Joe emphasizes that building men builds families and families build churches. If the dad goes to church, children go. Statistics verify the significance of the father's role. Dr. Joe's success story as a father of six competent children supports his Fathers First teachings and the principles he has included in the Fathers First curriculum. He never "toots his own horn," but we who have witnessed his impact on his own family and on the church and community want to share the story. Fathers First is a proven program that merits implementation in many churches and communities.
Through the ministry of Fathers First many men, in addition to Robert, have found their role as a father and as a Spirit-filled Christian. Ronnie and Cheryl, husband and wife, now drive the church bus to transport recovering alcoholics and former drug addicts to church. Then there is Tommy, converted from the drug world, who faithfully brings his two boys to church and serves on the ushering staff. Each of these and many others gladly share their gratefulness for the dynamic impact of Fathers First on their understanding and acceptance of their role as a father.
In an effort to see this proven program implemented in other churches and communities, Dr. Joe Cassady produced a professional quality DVD explaining the program. If you would like a free copy of the DVD, send a request to: Truth Tabernacle, P.O. Box 1904, Marysville, CA 95901 or an email to jsfloe@att.net.
Also, you can view the FATHERS FIRST Video.wmv on U-Tube at http://www.youtube.com/watch?v=Ta4f4WU80DU&feature=youtube_gdata_player