There is something so beautiful about conforming to the standards of what is right and just. When we align ourselves to the righteousness of God, His glory and His goodness are formed in us. It becomes the effective force that generates from within, flowing through and flooding out to the world around us. I'm always amazed to see the awesome hand of God at work in our lives. It does not matter if it is a saint or a sinner, a pastor or preacher, God has a garment of righteousness for each of us to wear.

By Nancy J. Grandquist
To View the Entire Article, Click Here
To Download the Entire Article, Outline, or PowerPoint, Click Here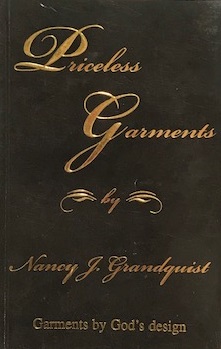 Want a little bit of heaven? Romans 14:17 says, "For the kingdom of heaven is not meat and drink but it is righteousness, peace and joy in the Holy Ghost." Notice the sequence of this scripture. It teaches us that you cannot have peace; you cannot have joy unless you first know God's righteousness.
What is righteousness? The dictionary defines it as the quality or state of being just or rightful; characterized by uprightness or morality. It is a passion for doing right, striving for pristine integrity while recognizing that it is only secured through the justice of God alone.
How many times have we prayed and asked God to clothe us in His righteousness, fully knowing that our own righteousness is but filthy rags? Hebrews 1:8 & 9 says, "But unto the son He saith thy throne Oh God, is for ever and ever: a sceptre of righteousness is the sceptre of thy kingdom." The Amplified Bible reads, "Your kingdom is a sceptre of absolute righteousness (of justice and straight forwardness)." Continuing in verse 9, "You have loved righteousness, you have delighted in integrity, virtue and uprightness in purpose, thought and action therefore you have hated lawlessness (injustice and iniquity)."
When we see ourselves as the prophet Isaiah did in chapter 6, verse 5, saying, "Woe unto me for I am a man of unclean lips…," and when we ask God to purify our hearts, our motives become the reflection of His desire for our lives. Our own agendas are transformed into what God's purpose and high calling are for us.
We have not been made to preside as the judges of mankind. Thank goodness that is God's job. However, it is a prerequisite as a child of God that we abhor evil and name sin for what it is. In our society today we see few church organizations that will actually define biblical principles and bravely call right, right and wrong, wrong.
We know that His Word is forever settled in heaven. Heaven and earth will pass away but His Word is forever. He is obligated to His Word. He is bound to it. He is, has been and always will be, the righteous judge. He looks at the heart; layer-by-layer. He strips away the entire facade from our lives. He knows the very intent (content) of our mind (heart) and soul (psyche). He looked at the Pharisees and called them whitewashed sepulchers. It serves as His warning to us today. They wore distinct robes that set them apart; they considered themselves far better than the rest of the religious crowd. It is far too easy to slip into the garment of self-righteousness, setting ourselves up as judge and jury, deliberating on who is holy and who is not. God help us all. We need to reflect on the scum pit that Jesus took us from. We need to remember that we are merely sinners saved by His grace. We have no rights, only His "rightness" in us. Remembering these things will help us keep a correct attitude.
To View the Entire Article, Click Here
To Download the Entire Article, Outline, or PowerPoint, Click Here