Now watch; God has desired for a long time to have a house. He told Moses; …now I want you to have them make Me a sanctuary that I may dwell among them. They may have access to Me and I can have access to them. I can communicate with them… And He even gave them this little box and all these dimensions and these beating wings of the Cherubim's over the mercy seat …for there will I meet with you and there will I commune with you.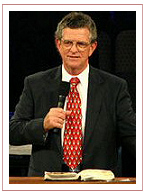 By Jeff W Arnold
To View the Entire Article, Click Here
To Download the Entire Article Directly to Your Computer, Click Here
To View the Outline, Click Here
To View the PowerPoint, Click Here

I'd like to direct your attention to a couple of scriptures; Exodus 25: 8 & 22, "And let them make me a sanctuary; that I may dwell among them. And there I will meet with thee and commune with thee…" and the whole thing ends in Revelations 21 where you will see exactly who, or what, becomes the eternal house of God; very interesting lesson.
1 Kings 8:27, Solomon builds the Lord a house and says; yeah, I have built thee a house. Will God indeed dwell in a house seeing that the heavens and the heaven of the heavens cannot contain Him…? Okay? I'm looking at my notes and Jesus mentioned three times in His ministry, "My Fathers house," and in all those three times he never referred to Heaven. He always referred to the earthly temple; either Herod's temple that was there erected at that time, or His own body. When He said, "Destroy this temple and I'll raise it up again in three days…," you remember me talking in John 14, He said, "In my fathers house are many mansions and I go to prepare a place for you, and if I go and prepare a place for you I'll doubtless come again and receive you unto myself that where I am there you may be also." Contrary to what has been taught for many, many years, the many mansions are not cubicles, or big ranch plateaus out somewhere in outer space in New Jerusalem. It literally means abodes, rooms, and dwelling places.
We ask the questions, "Who is God making the dwelling place for?" "For you, or for Himself? The scriptures prove the answer — for Himself. So when He said, "I go to prepare a place for you", you have to understand that many times in the scriptures there is a dual meaning with a dual fulfillment. You can have an actual physical fulfillment and a total spiritual fulfillment. You can have a present-day fulfillment and a future fulfillment And when the Lord says that I go to prepare a place for you, it's two-fold: Calvary was to prepare the initial place, so that you and I could become a dwelling place for God; the New Jerusalem was the final place. There are two stages.
I'm not preaching false doctrine. I'm telling the truth. So lets go to Geneses 8: Verse 4, "And the Ark rested in the seventh month, on the seventeenth day of the month, upon the mountains of Ar-a-rat. The waters decreased continuously until the tenth month: in the tenth month and on the first day of the month, were the tops of the mountains seen. And it came to pass at the end of forty days, that Noah opened the window of the ark which he had made: and he sent forth the raven, which went forth to and fro, until the waters were dried up from off the earth."
Now I want you to notice that scripture. The raven went to and fro upon the Earth. He never came back to the ark, because he's a dirty bird, and he's willing to live on dead stuff. There was a lot of dead stuff floating in the seas. He never returned to the ark. It said he went to and fro until the waters dried up. Now watch; "Also he sent forth a dove from him, to see if the waters were abated from off the face of the ground…" he was way up on top of a mountain and couldn't see, because there was cloud cover; "The dove found no rest for the sole of her foot, and she returned unto him into the ark, for the waters were on the face of the whole earth: then he put forth his hand, and took her, and pulled her in unto him into the ark. He stayed yet another seven days; and again he sent forth the dove out of the ark. And the dove came in to him in the evening; and lo, in her mouth was an olive leaf plucked off; so Noah knew that the waters were abated from off of the earth." Why? It was resurrection. It was new life. Something had happened. Now watch. "He stayed yet another seven days; and sent forth the dove which returned not again unto him anymore."
To View the Entire Article, Click Here
To Download the Entire Article Directly to Your Computer, Click Here
To View the Outline, Click Here
To View the PowerPoint, Click Here