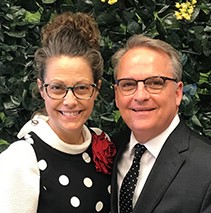 Kenneth Ray Carpenter became senior pastor of First Apostolic Church of Maryville in June 1984, and continues to pursue the vision and dreams God placed in his heart to reach the community of Blount County.
His ministry began at age 17 when he preached his first sermon, and shortly thereafter he began evangelizing throughout the United States. As a troubled 16-year-old teenager, he was enrolled at Apostolic Christian School in Knoxville, Tennessee. It was there that Bishop Billy and Betty McCool and the First Apostolic Church of Knoxville took a chance on him. February of that school year, he was baptized in Jesus name and received the gift of the Holy Ghost.
He has been a minister with the Assembles of the Lord Jesus Christ (ALJC) for well over 30 years. He is a regular conference and camp meeting speaker and is well-known for his leadership in missions giving. Pastor Carpenter was elected General Superintendent of the ALJC in 2013. His compelling burden and vision for the ALJC is to see prayer networked throughout the organization. It is his heartfelt desire to see all churches, regardless of size, have the tools they need to propel them into a greater revival and reap a harvest of souls.