It is impossible to live a life pleasing to God without the new birth experience. Paul explains the importance of this experience. He says we are dead to sin. How'? Our baptism. We need to realize the following comparison of Christ's death, burial and resurrection to the new birth experience.

By Larry M Arrowood
To View the Entire Article, Click Here
To Download the Entire Article Directly to Your Computer, Click Here
To View the Outline, Click Here
To View the PowerPoint, Click Here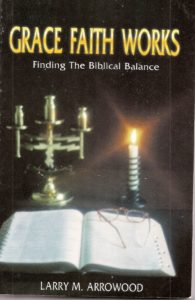 Some interpret Paul's message to the Romans as suggesting living above sin is impossible; therefore, any effort on our part to do so is futile. So, don't worry; rather, be happy while you sin, for God understands and is delighted to accommodate sin with His abundant grace. True, God does have an abundance of grace to cover sin, but Paul never intended for his message to be interpreted with such looseness. To the contrary, Paul taught that a victorious Christian life was possible and should be pursued. Consider his message in chapters 5, 6, 7, and 8 to the Roman Christians. First, let's look at what we will entitle "the three R's of sin".
The three R's of sin:
Reason or cause of sin
Result of sin
Remedy for sin
The reason of sin is because of disobedience. Adam and Eve were given only one rule to live by: do not eat of one particular tree. It was their disobedience to this command that brought the knowledge of sin.
The result of sin was that all born would have the nature of Adam. Mankind would be born impure as God regards impurity. Second, mankind was cast out of the presence of God. Fellowship with God was broken (spiritual death). Third, the earth was no longer a utopia. Man must now work to survive. Life became full of toil. Fourth, man's life span on earth was cut short. He will die (natural death). Fifth, all mankind will be judged and eternally sentenced.
The remedy for sin, however, is the grace of God. This grace was purchased by the shed blood of Jesus Christ for the sins of the world. Faith in Christ and obedience to His Word given by the Apostles is sufficient to remit one's sins. This is called "saving faith".
The beauty of New Testament salvation is the process by which we obtain it. When sin broke our communion with God, man was totally hopeless. He did not possess the ability to obtain personal salvation. In all of man's accomplishments, he has not been able to rid himself of his sins. Salvation was eternally out of his reach. He could not save himself. Only God could remit his sins. The manner in which God chose to put man's sins from him is the world's greatest love story. Literature has many love stories, but none of them can compare to the love story of redemption.
The God of the Old Testament appeared in various forms in the Old Testament to visit with mankind. Each visit was for a particular reason. This temporary form of God we call a theophany. This body was not flesh. It was differently than we are. It could not feel pain, hunger, or die. Genesis 32:30 is a record of God in theophany form wrestling with Jacob. Other examples are: Genesis 18, Exodus 24: 9-10, Exodus 3, Judges 13:21-22, Isaiah 6. Although these visits were made for specific reasons, none of them were for man's redemption. Man's redemption was paid for by Jesus Christ who was God incarnate (God in human form).
To View the Entire Article, Click Here
To Download the Entire Article Directly to Your Computer, Click Here
To View the Outline, Click Here
To View the PowerPoint, Click Here