Saving faith is different than acknowledging faith in that saving faith causes us to respond in a positive way toward God. Saving faith is an active faith: we cannot earn the grace of God but we act upon the grace of God extended to us. This faith causes us to reach out our hand to the extended hand of God's grace. This faith exceeds an acknowledging about God, or even a "profession of faith in Christ;" instead, saving faith, on impulse, causes us to respond to the God in whom we believe.

By Larry M Arrowood
To View the Entire Article, Click Here
To Download the Entire Article Directly to Your Computer, Click Here
To View the Outline, Click Here
To View the PowerPoint, Click Here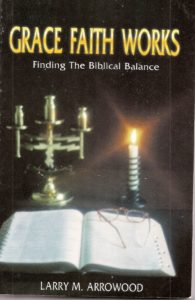 We must not think of faith only in terms of a miracle of healing, protection, or provision: all these though wonderful, have to do with the physical man: therefore, they are temporal. The most important aspect of faith is the role it plays in salvation: this has to do with the spiritual man, therefore, it is eternal. It is impossible to be saved without faith. Even God's awesome grace does not save us unless appropriated by a personal response of faith.
Salvation is by the grace of God. By grace, we mean the plan of salvation was conceived solely by God and presented to man for his acceptance or rejection. Grace originated not from merit, it is the gift of God. Man was spiritually dead, but God offered to him life again. We were servants of Satan and sin. God offered us deliverance from both. Our sin had separated us from God's fellowship; nonetheless, God invited us back into His presence. We were under the curse of eternal damnation; still, God offered to reverse the curse to a blessing of eternal life. All of the above benefits man could not do. No amount of personal effort could accomplish even one of these, yet, God made them available by His grace.
This is where faith enters the picture. This marvelous grace of God is appropriated in our lives by our personal faith in God. "For by grace are ye saved through faith; and that not of yourselves: it is the gift of God: not of works, lest any man should boast" [Ephesians 2:8-9]. Faith in Jesus Christ is essential for salvation; otherwise, the grace of God is not appropriated in one's individual life. Does this not suggest that man is "earning" salvation by the "act" of believing? No! Man's faith is, like grace, a gift of God. God placed within every human an element of faith to enact the gift of grace. God's grace is a gift. The faith to appropriate grace is also a gift from God. This makes salvation totally unearned by man; instead, it is God's gift to man. We activate faith in our hearts by our own will, likewise, we can destroy the faith God has given to us by our own will.
"For I say, through the grace given unto me, to every man that is among you, not to think of himself more highly than he ought to think; but to think soberly, according as God path dealt to every man the measure of faith" [Romans 12:3].
Within each of our lives is a "measure of faith," more for some and less for others, but enough to allow us to believe in Jesus Christ. This belief in Jesus Christ starts the process of salvation in our lives. Yet, to believe on Jesus Christ is not only for a single moment, otherwise, grace would be abandoned as our faith ceased. . . many have done so. Saving faith is that singularly moment that brings grace into our lives; moreover, it is an attitude that continues with us throughout life, causing us to "…grow in grace, and in the knowledge of our Lord and Savior Jesus Christ" [II Peter 3:18]. Our faith in Jesus Christ must continue.
There exists however, both a saving faith (of which we have been reading), and what has been termed "acknowledging faith." It is acknowledging faith which many ignorantly misinterpret as being sufficient for salvation, but it is not. Let me explain.
To View the Entire Article, Click Here
To Download the Entire Article Directly to Your Computer, Click Here
To View the Outline, Click Here
To View the PowerPoint, Click Here