This is not an acceptance of everything. Faith is not a get rich quick scheme, such as "Send me one thousand dollars by faith and God will double your money." To the contrary faith is believing in truth: God and His promises are truth. Our faith needs to have a reference point in the Word of God. This will keep us from erring in our requests to God.

By Larry M Arrowood
To View the Entire Article, Click Here
To Download the Entire Article Directly to Your Computer, Click Here
To View the Outline, Click Here
To View the PowerPoint, Click Here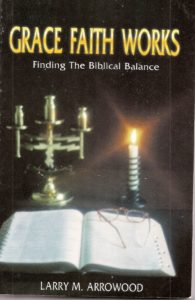 The New Webster's Dictionary defines faith as "complete acceptance of a truth that cannot be proven." The writer of Hebrews defines faith as "the substance of things hoped for, the evidence of things not seen" [Hebrews 11:1]. But it is not enough to define faith: we need to experience faith.
It is one thing to know what faith is, but it is entirely something else to have faith. As an example, we know fear by both definition and experience. There is little, if any, emotion or result from our definition of fear; however, when we experience fear, there is a host of emotions and responses that we experience. In fact, we can experience fear without having known its definition prior to our experiencing fear.
The same is true with many terms; for instance, love, pain, hunger, and loneliness. Likewise, faith is a term we can define without having experienced it, and experience it without a good definition for it. Yet, too many know only what faith is; notwithstanding, they do not possess faith.
To know or define faith is insufficient. Faith is useless unless experienced; therefore, to experience faith is to activate the definition of faith . . . complete acceptance of a truth which cannot be proven. Each morning when I awaken, I believe the sun will shine (even though sometimes hidden by the clouds), and that the day will last for a full twenty-four hours. Because I believe this, I plan my day accordingly; however, I have no proof that this is so. Though I have experienced this many times, there is no way of proving that this day will be like all others, I simply act upon my faith. Yes, scientists have proven the "what" (a twenty-four hour period of 365 days), but they cannot prove the "whether": whether or not the twenty-four hour time period will continue. This is where we operate by faith or succumb to fear.
Yet, faith does not have to include God. The atheist can believe that tomorrow will come; of course his faith is in history for since the recording of time the sun has always risen. So, here is where the secular and the religious part. The secular may have faith in history, that is, they believe in the future because of the past. As a Christian we have faith in God, that is, we believe in the future because we believe God controls the future. Can I prove this? No. That is why it is called faith.
In surveying the definition of faith as given by Webster, there are three points that we should consider.
1) Complete Acceptance
"…let him ask in faith, nothing wavering. For he that wavereth is like a wave of the sea driven with the wind and tossed. For let not that man think that he shall receive anything of the Lord. But when he asks he must believe and not doubt. . ." [James 1:6-7] NIV.
To View the Entire Article, Click Here
To Download the Entire Article Directly to Your Computer, Click Here
To View the Outline, Click Here
To View the PowerPoint, Click Here