Decide right now to allow God to have His way in your life. Stop wishing and start willing. Determine to die empty for God so that you may have it all. John 6:12 declares this powerful truth "so when they were all filled, He said to His disciples, gather up the fragments that remain, so that nothing is lost".

By James Holland Sr.
To View the Entire Article, Click Here
To Download the Entire Article Directly to Your Computer, Click Here
To View the Outline, Click Here
To View the PowerPoint, Click Here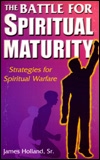 Acts 4:12 declares that "neither is there salvation in any other name – there is no other name given under heaven among men whereby we must be saved." The name of Jesus is all conclusive. At the name of Jesus three kingdoms are immediately affected. They are the heavenly kingdom, the earthly kingdom, and the underworld or the kingdom of darkness. The writer of Matthew 1:21 declares His name shall be Jesus, for He shall save His people from their sins.
In the days of Jesus, as well as in many cultures today, names carried great meaning and significance. In fact, names are still powerful today. Using the name of Jesus and having a revelation about the power in that name are two very different things. If we are to live in victory, then we must get a revelation about the power of the name of Jesus. When we really know who Jesus is, then we can allow Him to help us find out who we really are. God has potential invested in us that we are not even aware of. Satan will try to convince us that we will never be all that God wants us to be.
Let me show you the importance of a name. Before I share with you the necessity of the name of Jesus in our lives, look at Jacob. First of all, let me remind you that we all seem to have a little bit of Jacob in us. Jacob was one of God's heroes. He was a limping leader graced to come to know who he was in a personal way. Jacob's name meant "supplanter" or "trickster". Jacob finally found himself left alone with God. God cannot accomplish anything with us until we are left alone with Him. It took a midnight meeting and an encounter with God to bring Jacob to himself. Let me say here that sometimes God allows circumstances to be as such to push us into a place with Him where it's just God and us. While in the place with God, there are no crutches to lean on. In Genesis 32: 24-30, we read the account, God tells Jacob that he is not who he thinks he is. Then, God changes the "trickster" into "Israel," a prince with God.
Aren't you glad that God knows who we really are? He will give us a name. Bible names where generally significant as in the case of Isaac, whose name meant "laughter". His mother broke into fits of laughter when she saw what God had done for her in her winter season of life. The name Naomi meant "pleasant", yet after some bitter years she changed her name to Miriam, which meant, "I am bitter".
Life has a way of doing that to us if we don't have the right name in our lives. In fact, Naomi and her family left Bethlehem, which meant "house of bread" and journeyed to Moab, which meant "land of wash-pots". How many people do you know that have allowed fear and opinions of others to lead them away from God's will instead of into it. Moses' names meant "drawn out". He was drawn out of the water by Pharaoh's daughter by the hand of God, so that God could "draw him out" to be the deliverer of the children of Israel.
Let's talk about the majestic name of Jesus. Why were Mary or Joseph not permitted to name this child? Most parents would be very upset if they were not permitted to even choose the name of their child. Of course, it had been prophesied what His name would be, yet we must understand also that Mary and Joseph, as obedient as they were, could not fully comprehend the all encompassing, far reaching effects that this name would have upon the world, as well as all humanity to come. Mary simply did not understand His destiny. We need to be careful not to let people who don't understand our destiny, put names on us! Don't let the rumors of the past stop you from getting into your future.
To View the Entire Article, Click Here
To Download the Entire Article Directly to Your Computer, Click Here
To View the Outline, Click Here
To View the PowerPoint, Click Here