Nothing could throttle the passion of the early church. It penetrated into Caesar's household. The FIRE and PASSION broke through the pagan walls of darkness and brought light into the Gentile world. Though the resistance of the heathen produced grave persecution, nothing could hinder the Pentecostal experience and message from spreading into every region, country, and continent of the world.

By Kenneth F Haney
To View the Entire Article, Click Here
To Download the Entire Article Directly to Your Computer, Click Here
To View the Outline, Click Here
To View the PowerPoint, Click Here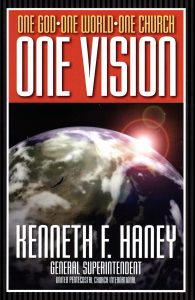 There are five things needed to fulfil our mission:
TRUTH
SPIRIT
UNITY
ZEAL
VISION
The United Pentecostal Church International is a church of destiny! We are a movement that has been commissioned for this FINAL HOUR. We have the biblical truth that the New Testament church taught and that
Jesus set forth in His instructions to His disciples. We have His Spirit within us, although we need to be baptized anew with a fresh touch of His Spirit. We need to be more unified in our approach in reaching the world. We are not an island unto ourselves, but we are integrally woven together by the blood of Jesus Christ. We cannot allow ourselves to be laid back or filled with apathy. There is need for more zeal and passion among us. This book will give a clear sound of what our vision is. The time is ripe; we must move into the field for it is ripe unto harvest.
"Therefore said he [Jesus] unto them, The harvest truly is great, but the labourers are few: pray ye therefore the Lord of the harvest, that he would send forth labourers into his harvest." Luke 10:2
In Luke 10:1, Jesus sent seventy disciples out into the harvest field two by two. Jesus sends His disciples forth as shown in John 20:21: "Then said Jesus to them again, Peace be unto you: as my Father hath sent me, even so send I you."
We can never forget who has sent us into this world to preach the gospel. It should be pulsating through our veins, throbbing in our minds, "I am sent on a mission. I am sent on a mission by God Almighty to do His bidding." Every day should be looked upon as an adventure into a world characterized by His Spirit.
As Nehemiah was released by the king to do what God had put in his heart to do, we the church have been released. As he was equipped for the job, the Spirit has equipped us. As Nehemiah considered the need and state of affairs and told the people that the hand of God was upon him, so must the church do the same!
THE COMMISSION SENT
As Nehemiah was sent by King Artaxerxes, so our King has also sent us on a mission. It is our greatest mission in life. King Jesus is our example. He gave His life for the people of this world.
It was His mission.