Praise goes one step further and expresses that gratitude in some verbal, audible or demonstrative way. Praise can be heard. Verbally or demonstratively extolling the virtues and divine attributes of God is praise. Thanksgiving praises Him for what He has done and praise exalts Him for who He is. All expressions of praise can be grouped in these three areas.

By David Bernard
To View the Entire Article, Click Here
To Download the Entire Article Directly to Your Computer, Click Here
To View the Outline, Click Here
To View the PowerPoint, Click Here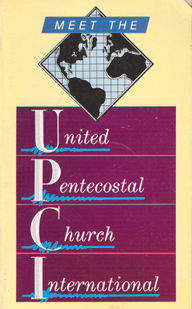 O magnify the LORD with me, and let us exalt his name together.
Psalm 34:3
Start With the Scriptures
Psalm 150
Amos 9:11-12
Acts 15:13-19
1 Thessalonians 5:18
Pentecostal worship, when contrasted with the worship of many contemporary churches, is rather different. The verbal congregational expressions in praise and prayer, the significant role of singing and musical instruments, the physical demonstrations in worship, and the energetic preaching may appear to the stoic as irreverent. Formal denominations consider the church service to be a place for deep meditation, silent introspection, restrained participation, and pious formalities. Pentecostals, although they respect these methods and agree that they have their place, believe that the church service is a celebration—the believers are the celebrants and Jesus is the celebrity! Therefore, the atmosphere is alive with joyous expressions that celebrate the majestic splendor of God.
What Is Pentecostal Worship?
A believer, upon conversion, becomes a minister for the Lord. We are not referring to a preaching type ministry, but we are saying that each individual has a place of function and influence in the church. Paul compared the members of the church to a physical body, with each individual functioning in some vital way, ministering to that body (I Corinthians 12:12-27).
Our ministering can be divided into three basic areas—exhortation, evangelism, and worship. Let's look at each of these briefly.
Exhortation is the ministry we render to our spiritual brothers and sisters. We pray for, comfort, assist, encourage, counsel, and protect one another (I Thessalonians 5:6-11).
Evangelism is the ministry we offer to the sinner. This ministry reaches for the lost through intercessory prayer, witnessing, providing good examples, being a friend, and sharing the Word of God (Matthew 28:19; Mark 16:15).
The third ministry is different from the other two because it does not directly involve others. Worship is a direct ministry to the Lord. It is not horizontal (i.e. reaching to people), but vertical—reaching directly to God. Worship is an interaction between the believer and God, without the involvement of anyone else. Of course, we can encourage one another in worship, but ultimately the experience is between the believer and God. It is a wonderful thought to consider that God is actually gratified when we worship Him. We are actually ministering unto the Lord when we worship Him.
To View the Entire Article, Click Here
To Download the Entire Article Directly to Your Computer, Click Here
To View the Outline, Click Here
To View the PowerPoint, Click Here