References to signs and wonders are common from the Day of Pentecost forward. In his first message, Peter said that Jesus of Nazareth was, "a man approved of God among you by miracles and wonders and signs, which God did by him in the midst of you, as ye yourselves also know" (Acts 2:22).

By David Bernard
To View the Entire Article, Click Here
To Download the Entire Article Directly to Your Computer, Click Here
To View the Outline, Click Here
To View the PowerPoint, Click Here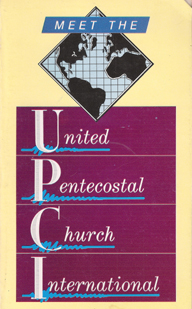 And they went forth, and preached every where, the Lord working with them, and confirming the word with signs following. Amen.
Mark 16:20
Start With the Scriptures
Mark 16:17-18
Acts 2:1-4
I Corinthians 12
A Supernatural Church
There can be no question about the supernatural nature of the New Testament church.
Among His last words to His disciples, Jesus said, "And these signs shall follow them that believe; In my name shall they cast out devils; they shall speak with new tongues; They shall take up serpents; and if they drink any deadly thing, it shall not hurt them; they shall lay hands on the sick, and they shall recover" (Mark 16:17-18).
This was indeed a way of life with the early believers. The church was born with a supernatural experience as some 120 were filled with the Holy Ghost and spoke in languages they had never learned (Acts 2:1-4).
Many wonders and signs were done by the apostles (Acts 2:43). While the details of only a few of them are recorded in Scripture, enough of the record is preserved to show how the Lord worked with them, confirming the Word with signs following (Mark 16:20).
These supernatural signs seemed to serve two basic purposes: first, they ordinarily helped hurting people; second, they dramatically drew the attention of people to the claims of Christ.
After the lame man at the Temple gate called Beautiful was healed through the ministry of Peter and John, "all the people ran together unto them in the porch that is called Solomon's, greatly wondering" (Acts 3:11). This provided Peter an opportunity to preach Jesus.
Following the dramatic deaths of Ananias and Sapphira, "great fear came upon all the church, and upon as many as heard these things" (Acts 5:11).
"And by the hands of the apostles were many signs and wonders wrought among the people; (and they were all with one accord in Solomon's porch. And of the rest durst no man join himself to them: but the people magnified them. And believers were the more added to the Lord, multitudes both of men and women)" (Acts 5:12-14).
To View the Entire Article, Click Here
To Download the Entire Article Directly to Your Computer, Click Here
To View the Outline, Click Here
To View the PowerPoint, Click Here