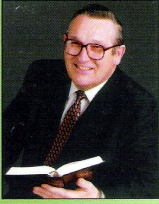 By Paul V. Reynolds
"I have compared thee, 0 my love to a company of horses in Pharaoh's chariots"
Songs of Solomon 1:9
"Thou art Peter, and upon this rock I will build my church, and the gates of hell shall not prevail against it." Matthew 16:18
So what is the big deal about the church of Jesus Christ? Good question: It needs a good answer! And by the way it's got to be a better answer than –
• A place for children on Sunday morning
• It's a place to marry and bury
ASK YOURSELF: Is the church really significant in a day of powerful endtime world issues, satellites and missiles, mind boggling technological discoveries, robots and computers, laser beams and so on?
As we scan the nations of the world, we will discover groups of God's people meeting in their own sanctuaries — to worship. Some are beautiful and ornate like the one you sit in today. More often than not they meet in bamboo shelters, clapboard chapels or an unpainted storefront. From these hallowed places prayer, praise and the preached Word is given.
• Are they significant?
• Are they relevant?
From the sanctuary today these questions will be dealt with. I hope as we peruse the following points you will want to stand and shout, "Haaaallelujah!"
ONE: THE CHURCH IS THE ONLY INSTITUTION ON EARTH DEALING TODAY WITH THE ULTIMATE ISSUES:
• Death
• Purpose
• Life
• Identity
• Judgment
• Heaven
• Relationships
• Hell
These are the real issues … the deep issues … the perplexing issues of life. Only the church has the answers. If you ask me, that makes the church a big deal! Can I get a witness? Aaaaaamen!!!
TWO: THE CHURCH IS INVINCIBLE JESUS SAID: " I WILL BUILD MY CHURCH … THE GATES OF HELL SHALL NOT PREVAIL AGAINST IT."
Over it's two thousand-year history they have tried to put out her light by burning it, drowning it, throwing it to the lions. The church is still around. Nobody is going to put her out of business. IT'S INVINCIBLE!
Can you think of anything more assuring. Insecurities flee at the very thought of it.
THREE: THE CHURCH IS THE ONLY PLACE THAT CAN GIVE MAN HIS DIGNITY BACK.
Man for the most part has become nothing more than a means toward an end — a number to be used and abused. He has been humbled to a digit — to he used and then discarded. Worthlessness is rampant! Thank God for the church! When life takes it out —the church puts it back! All over the sanctuary today are beautiful trophies of God's grace.
• Yesterday's nobodies!
• End of the road Jacks!
• Dead end street Jills!
• For each of you, the change came the day you walked through the doors of the church.
FOUR: THE CHURCH PROVIDES A MORAL COMPASS GIVING FOUNDATION AND DIRECTION FOR LIFES JOURNEY.
Note: Put on your seat belt — the ride starts bumpy hut will have a soft landing!
Like dirty, murky water our society has muddied man's direction. The principalities and powers of this world's system has either rethought — resisted or completely rejected absolutes. Majoring in rationalization. The dictionary defines that word as "providing plausible but untrue reasons for conduct."
We smoke screen it! Yeeea — we really do! We mix it all up until its hard to see reality.
• Right and wrong
• Work and play
• Deity and humanity
• Truth and lie
• Church and world
• Marriage and the affair
• Love and sex
• Male and female.
We have smudged the lines of demarcation until all direction is lost. All guilt is quieted. All pain is dulled. So sad!
So, how do we get there from here? We can't — that is not without the church! The church puts it all back in perspective. It tells us what is right and wrong — light and darkness — morality and immorality. WOW! THANK GOD FOR THE CHURCH!
FIVE: JESUS CHRIST 19 IS THE CHIEF EXECUTIVE OFFICER OF THE CHURCH.
Can you think of anything more exciting than having Jesus Christ as the C.E.O. of your organization?
It is not only rare — it is non-existent outside the church.
• General Motors does not have that distinction.
• Texico or Shell cannot say that.
• Air Canada cannot make that claim. This distinction belongs only to the church.
TO BE SURE THE CHURCH IS RELEVANT TODAY.
Here's a salute to the church by Solomon — the wise man of the Old Testament.
"I have compared thee, 0 my love, to a company of horses in pharaoh's chariots."
Songs of Solomon 1:9
He was a sweeeeet talker. Blessed with an over abundance of brains, God given wisdom that gave him an international reputation. In fact, Solomon had it all — at first.
The first eleven chapters of I Kings gives us both his rise and fall. Erosion got him!
At the beginning he really did have the touch of God.
… Solomon loved the Lord … " (I Kings 3:3) It must have been during this Spring of his life that this beautiful Spiritual Allegory flowed from his quill. "The Song of Solomon" is an oriental poem representing the holy affections existing between Christ and his church. The Heavenly bridegroom likened, his beloved to "a company of horses in pharaoh's chariots." (1:9)
Let us talk about what those pharaoh's horses were like. Let's visualize this special breed together. Let's lean against the split-rail fence and watch them thunder by. Notice the brand marks!
A) Pharaoh's horses were not sired in natural stables. They were caught in the wild desert wilderness of Egypt, Arabia and Sinai —untamed — untrained — ungroomed!
Wild man — Wild! What a perfect illustration of His church.
"Who is this that cometh up from the wilderness leaning upon her beloved." song of Solomon 8:5
I'll tell you who. It's another wild human just loosed by the master. They were found in the waste, howling wilderness of sin. Wild and wooly — hut found. Soon this human wretch will be ready for heavenly chariots, trophies of God's grace.
B) Pharaoh's horses were all the same stature. They were all the same height and weight —awesome in their uniformity. Oh, what a type and shadow of the real church. What a candid picture of the beautiful Bride of Jesus Christ.
"For as the body is one, and hath many members, and all the members of that one body, being many, are one body so also is Christ. For by one Spirit are we all baptized into one body, whether we be Jews or Gentiles, whether we be bond or free …" I Corinthians 12:12-13
Stop, and think that over. No BIG "I's" or little you's!"
Some brought down — some brought up — moulded into one team, fit for pharaoh's chariots. God's glorious grace shows no respecter of persons.
Travel with me to Jamaica — isle in the sun! Grab a cab at the Norman Morley Airport. Wind your way through the streets of Kingston — teaming with people — north through Constant Springs and into the mountains of St. Andrew. Go to the top of Mt. Ogle. There on a Sunday night you will find a little church filled with God's great people. Behind the pulpit, you will see Elder Creary the world's number one tambourine player. He's leading the redeemed in the chorus.
"If salvation was a thing that money could buy,
The rich would have it and the poor would die,
It's so high — you can't get over it.
It's so low — you can't get under it.
It's so wide — you can't get around it.
You have to go through the door."
Oh, what joyous celebration! That should cause some of you in the pew to shout for joy!
C) All of Pharaoh's horses had the same markings: Simply put — they all look alike! Can you visualize it? Look-a-likes? If they were horses for Pharaoh's chariots they must be uniform.
In the redemption process every member of the church comes out with the same distinctive markings.
• All must repent and get the blood applied.
• All must take on the Name of Jesus Christ in water baptism.
• All must he Spirit-filled.
• All must live a life of holiness.
D) All of Pharaoh's horses must be trained for war
• "Put on the whole armour of God …" Ephesians 6:11
• "Fight the good fight of faith …" I Timothy 6:12
• " … that thou … mightest war a good warfare … I Timothy 1:18
• " … they loved not their lives unto the death." Revelation 12:11
No — the church is not the OPIUM OF THE PEOPLE" as the communism declared. We are a "Militia!" Let me gently but firmly remind you that communism has crumbled. It did not even last a century.
After twenty centuries the church still marches on to war.
Onward Christian Soldier marching as to war,
With the cross of Jesus going on before
"I have compared thee, 0 my love to a company of horses in pharaoh's chariots.
IN CONCLUSION:
There was another factor about pharaoh's horses —
THEIR HOME COMING!
Rome's streets lined with it's teaming, cheering, adoring citizens — Pharaoh is coming with his chariots and horses.
"And I heard as it were the voice of a great multitude, and as the voice of many waters, and as the voice of mightly thunderings, saying, ALLELUIA: for the Lord God omnipotent reigneth.
Let us be glad and rejoice and give honour to him, for the marriage of the Lamb is come, and his wife hath made herself ready." Revelation 19: 6, 7
(Emphasis mine)
It's — altar tune.
Shall we bow in prayer. The spirit of the Lord fills the Sanctuary. Are you ready for that glorious hour? Say —the war is almost over. Horses & Chariots are ready to go home.
CHORUS:
I can hear the sound of his coming everywhere,
It's getting louder and louder each day.
And they'll crescendo until that great and final sound when the trumpet shall call me away.
Quickly move down the aisle to the altar — there Jesus waits to sign you up for that glorious Jubilee.
The above article, "Pharaoh's Horses" is written by Paul V. Reynolds. The article was excerpted from Reynolds' book In the Sanctuary.
The material is copyrighted and should not be reprinted under any other name or author. However, this material may be freely used for personal study or research purposes.