Our altar is in our heart. One time a preacher came to our church and spoke on winning the lost. One of his sermons was an excellent one on slothfulness. It affected me in such a way that I became aggravated so that the altar of my heart was affected. I needed by God's grace to do something about it!
By Michelle Mihalakis
To View the Entire Article, Click Here
To Download the Entire Article Directly to Your Computer, Click Here
To View the Outline, Click Here
To View the PowerPoint, Click Here
To Order More, Click Here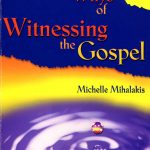 "I tell you, Nay: but, except ye repent, ye shall all likewise perish" (Luke 13:3).
It is interesting that the Bible states that lacking two things can cause people to perish. The word perish in Gesenius Lexicon to the Old Testament means to loose, to let go, to make naked. In Strong's Dictionary it means to destroy.
Jesus made the statement in Luke 13:3, "I tell you, Nay: but, except ye repent, ye shall all likewise perish." The book of wisdom tells us, "Where there is no vision, the people perish." (See Prov. 29:18.)
Lack of vision and repentance lead to the same demise. We will be destroyed, loosened from God, and stripped of His protective covering without them.
Repentance causes us to gain God's perspective. We cannot see clearly in the spirit realm unless we lead repentant lives. The Spirit of God continually holds a mirror up to our faces when we sin to let us know what the image of Jesus should resemble. Without repentance we will not have vision or the renewed growth in the revelation of who God is. If you feel you do have a vision, repentance will help you keep it.
There are two very small words in the English language, but they have tremendous impact if followed and observed. They are conditional before application, but afterward they are absolute in promise to the person who embraces them. The two words that help propel the gospel onward are go and if. We know we need to "go preach the gospel," but what about the word "if?"
There are several significant "ifs" in the Bible. One of them is when God spoke to Solomon after he was finished building the temple in 2 Chron. 7:13-14: "If I shut up heaven that there be no rain, or if command the locusts to devour the land, or if I send pestilence among my people; If my people, which are called by my name, shall humble themselves and pray, and seek my face, and turn from their wicked ways, then will I hear from heaven, and forgive their sin, and heal their land."
When we study the word if in the thirteenth verse where it's referring to God's "if," we'll find that it means behold. These scriptures are saying that God stands behind His Word. 'Whatever He says He will do, He will perform it!
Paradoxically, when it comes to the fourteenth verse referring to the "ifs" of mankind and his part in the agreement God has offered, the word denotes a conditional response.
If God sent three plagues on the earth, His people could stave back the wrath of God by doing three acts of obedience: Humble themselves, pray, and repent. This is what God was asking His people to do.
To View the Entire Article, Click Here
To Download the Entire Article Directly to Your Computer, Click Here
To View the Outline, Click Here
To View the PowerPoint, Click Here
To Order More, Click Here