Notice the clear-cut picture. Immediately after coming out of the temptation, Christ went back to the place of His upbringing and revealed to them that, rather than being the son of Joseph, the carpenter, He is the one of whom all the Old Testament Scriptures have spoken. He is the Messiah for whom the Jewish nation has longed. He has come to do a specific work at this time.

By Nathaniel J Wilson
To View the Entire Article, Click Here
To Download the Article Directly to Your Computer, Click Here
To View the Outline, Click Here
To View the PowerPoint, Click Here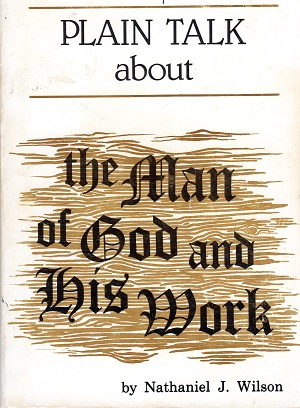 John 17:18
"As thou has sent me into the world, even so have I also sent them into the world."
The carnal person in leadership constantly finds himself comparing himself to others. The Bible teaches us this is unwise. "Emulations" is spoken of in Scripture as a work of the flesh and something to be avoided. Since this is true, then to whom should we look to as our ministerial example? The answer is Jesus Christ. While this on the surface may appear overly idealistic, it is not. Christ Himself says we are sent as He is sent. So let us see how we are sent as He is sent.
The entire seventeenth chapter of John is a very revealing portion of Scripture for the God-called minister. It reveals Christ in His humanity communing with divinity. It reveals the minister communing with God who has called him to minister. It is an example for ministers in their relationship with Jesus Christ.
This prayer reveals to us the things that the Perfect Minister of all times felt were most important. In this deep revelation of the inward feelings of Christ's personal relationship as a responsible steward to the Father, we gain insight into a true minister's most important discussions with his God.
Many people have used this particular chapter in John to encourage ecumenicism in the religious world. Others have used it to show God's inward desire to make the whole world one with the "Fatherhood of God and the brotherhood of man." However, this is not even close to what is actually revealed in this chapter. This chapter reveals to us that every man of God comes to a point in time in which he will be held accountable for his area of responsibility.
John 17 is actually a very intimate and personal picture of the man Christ Jesus giving a report of accountability. He is accounting for the carrying out of His duties upon the earth. It is as though the man, Christ Jesus is saying, "I have successfully carried out the job that you sent me to do." Note John 17: 6, 7, 8.
"I have manifested thy name unto the men which thou gayest me out of the world: thine they were, and thou gayest them me; and they have kept thy word.
(7) Now they have known that all things whatsoever thou hast given me are of thee.
(8) For I have given unto them the words which thou gayest me; and they have received them and have known surely that I came out from thee, and they have believed that thou didst send me."
Now that I have effectively carried out the job that I was sent to do, now that I have finished the work which thou gavest me to do (verse 5) "Now, 0 Father, glorify thou me with thine own self with the glory which I had with thee before the world was."
To View the Entire Article, Click Here
To Download the Article Directly to Your Computer, Click Here
To View the Outline, Click Here
To View the PowerPoint, Click Here