"He that corneth to God must believe" (Hebrews 11:6). The gospel of Jesus Christ cannot become effective in one's life until he believes it. "For . . . the gospel of Christ . . . is the power of God unto salvation to everyone that believeth" (Romans 1:16). Jesus was careful to put this emphasis upon the gospel message when He delivered the great commission to His apostles, as recorded in Mark 16:15, 16: "Go ye into all the world, and preach the gospel to every creature. He that believeth and is baptized shall be saved; but he that believeth not shall be damned."
Faith Our Purchasing Medium
Faith is "the medium of purchase" in God's kingdom, the same as currency is in this present world. Without faith we are spiritual paupers and unable to obtain the things we need from God. On the other hand, we can obtain anything God has for us if we can "only believe." So we read: "Therefore I say unto you, What things soever ye desire, when ye pray, believe that ye receive them, and ye shall have them." Again our Lord said: "If thou canst believe, all things are possible to him that believeth" (Mark 9:23). It is said that every person possesses a certain amount of faith, though it is often channeled in the wrong direction. Some folk can believe in anything except God, it seems some church folk included (Luke 24:13-15, 25). No wonder Jesus said: "Have faith in God." The very moment a person can put his faith in God for his needs, he can have them—if he will humbly ask and seek earnestly enough for them (Matthew 7:7-8 and 5:6).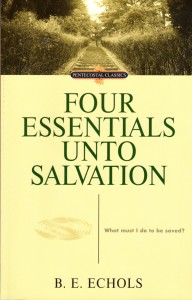 The above article, "The First Essential: Faith" is written by B. E. Echols. The article was excerpted from the 2nd chapter of Echols's book Four Essentials Unto Salvation.
The material is copyrighted and should not be reprinted under any other name or author. However, this material may be freely used for personal study or research purposes.