Trinitarians sometimes explain that the Old Testament monotheistic passages merely speak of perfect agreement and unity among the trinity, excluding a plurality of false deities but not a plurality of persons in the true God. This view would allow outright polytheism, however, for many distinct deities could exist in perfect harmony.

By David Bernard
To View the Entire Article, Click Here
To Download the Entire Article Directly to Your Computer, Click Here
To View the Outline, Click Here
To View the PowerPoint, Click Here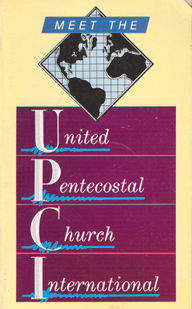 For in him dwelleth all the fulness of the Godhead bodily.
Colossians 2:9
Start With the Scriptures
Deuteronomy 6:1-9
John 14:1-31
John 1:1-14
The biblical message of the mighty God in Jesus Christ is perhaps the greatest distinctive of the United Pentecostal Church International, distinguishing it from Trinitarian Christianity, including Trinitarian Pentecostals. This doctrine, commonly known as Oneness, can be defined by two affirmations: (1) There is one God with no distinction of persons; (2) Jesus Christ is all the fullness of the Godhead incarnate. In other words, all titles of the Deity apply to Jesus, and all aspects of the divine personality are manifested in Him.
God's Oneness
The basis of this biblical doctrine is an uncompromising belief in one God, which is known as monotheism. Simply stated, God is absolutely and indivisibly one. There are no essential distinctions or divisions in His eternal nature. All the names and titles of the Deity, such as God, Jehovah (LORD), Lord, Father, Word, and Holy Spirit refer to one and the same being. Any plurality associated with God is only a plurality of attributes, titles, roles, manifestations, modes of activity, or relationships to humanity.
This is the historic position of Judaism. Both Oneness and Jewish believers find the classic expression of this belief in Deuteronomy 6:4: "Hear, O Israel: The LORD our God is one LORD." In subsequent verses, God underscored the importance of this truth by commanding His people to teach it to their children when sitting, walking, lying down, and rising up—in other words, continually. Jesus also emphasized the importance of this teaching, calling it "the first of all the commandments" (Mark 12:29).
Many other biblical passages affirm strict monotheism and exclude any plurality in the Deity. For example:
"Before me there was no God formed, neither shall there be after me. I, even I, am the LORD; and beside me there is no saviour" (Isaiah 43:10-11).
"There is no God else beside me; a just God and a Saviour; there is none beside me" (Isaiah 45:21).
"I am God, and there is none else; I am God, and there is none like me" (Isaiah 46:9).
"This is life eternal, that they might know thee the only true God, and Jesus Christ, whom thou hast sent" (John 17:3).
To View the Entire Article, Click Here
To Download the Entire Article Directly to Your Computer, Click Here
To View the Outline, Click Here
To View the PowerPoint, Click Here