By: Daniel M. Davy
To View the Entire Article, Click Here
To Download the Entire Article, Outline, or PowerPoint, Click Here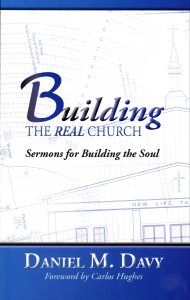 Jeremiah 5:1
"Run ye to and fro through the streets of Jerusalem, and see now, and know, and seek in the broad places thereof if ye can find a man, if there be any that executeth judgment, that seeketh the truth; and I will pardon it."
As we approach the ending of this age, there is a great need for people of God to stand in the gap in order to save the lost. This is the reason why we do what we do. Jesus made a declarative statement in Luke 19:10, "For the Son of man is come to seek and to save that which was lost." The Bible also says as He is, so are we in the world. So we have a mandate to seek and to save the lost. We're living in a religious world; a religious world that is not really where God wants it to be; one in which the key ingredients that God is looking for are really missing. Time was so much a factor that Jeremiah is told to run, not walk, not jog, but run through the streets of Jerusalem to find a man who was honest in order for God to grant pardon to that generation. He was to be the one that would intercede. God was seeking an intercessor; He was seeking one that would stand in the gap. God is looking for people who will proclaim the truth of God's Word without regard to favor or influence, who can't be bought, who would despise gifts, who have no regard for this world's goods, who have no vested interest in the things of this world, but who are concerned that God's pardon be imparted to a lost and dying world.
Because of the seriousness of the hour, the apostle said it was perilous times. In Matthew chapter 24, Jesus made mention of some of the natural disasters that will pervade our end time generation. Even this morning we're waking up to a tremendous loss in the isle of Japan and we send our condolences to that nation that God would help them, but it may be a time for them to seek God. Isaiah 55:6 says, "Seek ye the Lord while he may be found, call ye upon him while he is near." So we are looking at the ending of this age and God is in need of someone to stand in the gap, someone to lift his or her voice among all of the destruction and all of the things in this life, someone to have a clarion, a certain, a very pointed message for our generation.
The apostle in Acts 17:30-31 says this:
31 And the times of this ignorance God winked at; but now commandeth all men every to repent: 32 Because he hath appointed a day, in which he will judge the world in righteousness by that man who he hath ordained; whereof he hath given assurance unto all men, in that he hath raised him from the dead. And so we are living in times of turmoil and trouble, but at the same time we are looking for a great revival and ingathering of the world that we're in and so God needs someone. He said to Jeremiah, "run to the streets! It is an urgent call! A clarion call! Run! See if you can find somebody who will stand in the gap and intercede." So the Lord really needs someone to bring the message of reconciliation to a dying world.
To View the Entire Article, Click Here
To Download the Entire Article, Outline, or PowerPoint, Click Here