The Power of a Whisper
By T.F. Tenney

To View Article, Outline or PowerPoint click here
And he arose, and did eat and drink, and went in the strength of that meat forty days and forty nights unto Horeb the mount of God. And he came thither unto a cave, and lodged there; and, behold, the word of the Lord came to him, and he said unto him, What doest thou here, Elijah? And he said, I have been very jealous for the Lord God of hosts: for the children of Israel have forsaken Thy covenant, thrown down Thine altars, and slain Thy prophets with the sword; and I, even I only, am left; and they seek my life, to take it away. And He said, Go forth, and stand upon the mount before the Lord. And, behold, the Lord passed by, and a great and strong wind rent the mountains, and brake in pieces the rocks before the Lord; but the Lord was not in the wind: and after the wind an earthquake; but the Lord was not in the earthquake: and after the earthquake a fire; but the Lord was not in the fire: and after the fire a still small voice. And it was so, when Elijah heard it, that he wrapped his face in
his mantle, and went out, and stood in the entering in of the cave. And, behold, there came a voice unto him, and said, What doest thou here, Elijah? And he said, I have been very jealous for the Lord God of hosts: because the children of Israel have forsaken Thy covenant, thrown down Thine altars, and slain Thy prophets with the sword; and I, even I only, am left; and they seek my life, to take it away. And the Lord said unto him, Go, return on thy way to the wilderness of Damascus: and when thou comest, anoint Hazael to be king over Syria: and Jehu the son of Nimshi shalt thou anoint to be king over Israel: and Elisha the son of Shaphat of Abelmeholah shalt thou anoint to be prophet in thy room (1 Kings 19:8-16).
"And after the fire, a still small voice."
In this audio sensitive world, let's explore the unique power of a whisper. God seldom yells at His children. More often than not He comes to us in what one translation calls, "a gentle whisper" (1 Kings 19:12 NW). His can be the simple, "still small voice."
A Prophet Running Scared
His name was Elijah.
Click here to view the entire article
Instead…He sends the power of a whisper—a whisper that will keep you when the wind dies down, and the fire burns out, and the earthquake is stilled. There is power in His whisper! What is He saying to you today?
Endnote
1. See 1 Kings 19:12 NW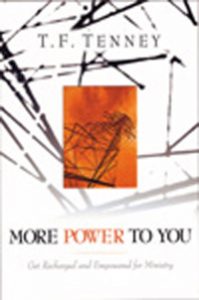 Click photo to view the 'Order More'
The above article The Power of a Whisper is the sixth chapter in the book More Power to You, written by T.F. Tenney.
The material is most likely copyrighted and should not be reprinted under any other name or author. However, this material may be freely used for personal study and research purposes.