Church: From Permanent To Portable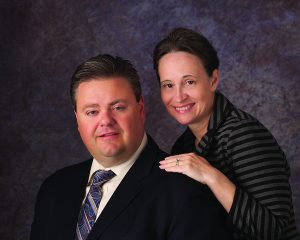 Everything is on wheels! Taking the church from permanent to portable is a concept adopted by Bro. Rick Perry, pastor of Haven Of Hope in New Haven, Connecticut. After selling their church building, the church now conducts services in an inner city school consisting of a 300-seat auditorium, with use of the gym, cafeteria, other rooms, and the swimming pool for baptism purposes.
"Multiple factors played into this decision," explained Pastor Perry. "Our building was too small, as we kept hitting 90 percent capacity and losing people as a result. We only had nine official parking spaces. I was approached by a real estate agent asking if we were willing to sell our building. Keep in mind we had tried for a year and a half with no success. Being a younger church, we had not had the opportunity to save a lot of money but we had capital in our building."
But a miracle soon happened, when another church with bank financing in place gave Haven of Hope more than what they paid for the building.
After much research, Pastor Perry decided to make his church portable. To make it work, the process is involved and very well-structured. "We start at 7:30 a.m. on Sunday with the first wave of volunteers emptying the trailer and bringing the contents to the respected doors of those ministries needing the supplies," he explained. "We have a foreman who is in charge of the loading and unloading of the equipment, we have someone that is responsible for all signage, we have someone over the breakfast, and we have people that know how to set up sound from start to finish.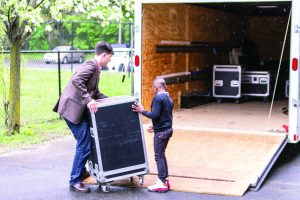 "At 8 a.m. the second wave comes and set-up begins. At this time, a team begins cooking breakfast for all 20-30 volunteers, and at 8:45 we have a tag-in meeting with everyone over a hot breakfast. Music practice starts at 9 a.m. Half an hour later, prayer time in the prayer room (which is half a gymnasium) begins. We also start our Growth Track class at that time in the library. At 10:15, all platform ministry and support teams meet for one last tag-in to go over the order of service and then church begins. At the conclusion of service, we load up."
Going portable has brought many benefits, and Pastor Perry is quick to recommend it to others. "I would certainly recommend what we are doing, BUT they need a solid team of people to help do it," he said. "Systems are key. One of the major benefits is that the building is maintenance free. Also, we don't have to do any repairs and we don't even have to invest in any cleaning supplies. For us, it's a win-win!
He said that becoming portable has brought growth to the church. "We are seeing new people as a result of more parking and comfort in the sanctuary," explained Pastor Perry. "We are also seeing new people get involved sooner. They may not have a complete grasp on holiness standards yet, but it doesn't stop them from putting up signs in the parking lot and hallways. It has also forced us into small group ministry (Connect Groups) and this has been a huge blessing in that many of our members travel good distances for service and it is creating leaders within the body. These groups will ultimately lead to other church plants, and that is our future goal."