Satan desires to plant seeds in the form of thoughts. These evil seeds aren't yours because they come to mind; they become yours when you allow those thoughts to move in and rearrange your goals. These evil thoughts impede progress and destroy morals. This is not just about positive thinking. It is much deeper than that.

By James Holland Sr.
To View the Entire Article, Click Here
To Download the Entire Article Directly to Your Computer, Click Here
To View the Outline, Click Here
To View the PowerPoint, Click Here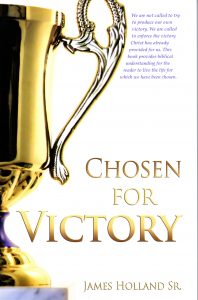 Whatsoever is born of God overcometh the world" (I John 5:4). We have already addressed how victory brings deliverance from our carnal ways that, before we are again, totally control our lives. Now we must realize that biblical victory empowers us to be overomers, not only over our carnality but also over our adversary, Satan, and over temptations that this world system is constantly waving in front of us.
Revelation 2:17 says, "To him that overcometh will I give to eat of the hidden manna." What is the hidden manna? It is the power and revelation of the Spirit that are released in our lives through obedience to the Word of God. It is the development of what the Bible calls "the mind of Christ" within us.
One of the greatest challenges of our walking with God is to resist the temptation to allow what happened in the past to determine who we are today. As a believer, each of us need to declare, "I am not what happened yesterday." Many are plagued all their lives by memories of past bad experiences.
Knowing that victory is working in my life will help me put these things behind. The fact is, most all of us who come to Christ come damaged, We are dead spiritually, damaged emotionally, and dying physically.
When God delivered you, He quickened, or made alive, your dead spirit. He, of course, also promised you a new body and eternal life. Then, through the infilling of the Holy Spirit, the power of God was released within you. At that point, God began the massive work necessary to repair your damaged thoughts about life, others, and yourself Do you begin to see why Satan doesn't want us to know that we are chosen for victory?
Once the Spirit of God connects with our spirit and we surrender to Him, not only is our spirit changed, but our heart          the center of emotion, desire, and will—is changed also. Yet it doesn't stop there. The Spirit also immediately begins the process of renewing our mind. Mind is described as "that which thinks or thinking processes that produce personality, sanity, which means mental soundness." Our mind is continually being renewed by the Holy Spirit.
Ephesians 2:10 says, "For we are his workmanship, created in Christ Jesus unto good works, which God hath before ordained that we should walk in them." Once we understand the connection of timid, heart, and spirit and truly allow God to work freely in each area, we will walk in the true power of victory. Christ had a balanced mind. That is, He did not allow the controversial opinions of others to determine who He thought He was. His inner percept ion was fixed! We need to be fully aware of who we e in Christ. This is done through a daily intake of the Word and of the presence of God.