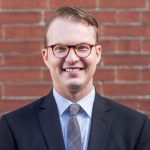 Graduation by Justin Reinking
More than fifteen years ago, thousands were gathered inside Market Square Arena in downtown Indianapolis, Indiana. Friends, family, and classmates filled the stadium seats to watch 650 North Central High School graduates turn the tassel. These individuals from all backgrounds, race, and neighborhoods had all met the Indiana Core 40 requirements for high school graduation. I was one of those students.
I remember during my years as a student making sure I passed all of my required classes. At the conclusion of each semester, I would confer with my guidance counselor to ensure that I was on track to meet the requirements to graduate. With hard work, hours of studying, and determination, I completed the task before me!
As important as my high school degree was, there is an even greater graduation day that I must be ready for. With the 2013-2014 school year coming to a close, I'm reflecting on the Lord's requirements. Am I living up to what He wants from my life? Am I putting forth all the efforts to ensure I'm ready to meet Him one day?
One passage of scripture that can help shed some light on this subject says, "And thou shalt love the Lord thy God with all thy heart, and with all thy soul, and with all thy mind, and with all thy strength: this is the first commandment" Mark 12:30). This is the answer Jesus gives to one of the scribes who asked him, "Which is the first commandment of all?"(Mark 12:28). The response of Jesus gives us insight into how to serve Him. He wants all of our heart, all of our soul, all of our mind, and all of our strength.
The heart is a vital organ of the body. The same is true of our spiritual body. Everything that goes in affects what goes out. Jesus wants us to serve Him with all of our hearts because He knows it governs everything about our lives.
We learn this from (Luke 6:45), "A good man out of the good treasure of his heart bringeth forth that which is good; and an evil man out of  the evil treasure of his heart bringeth forth that which is evil: for of the abundance of the heart his mouth speaketh."
Genesis 2:7 tells us the story of God breathing the breath of life into the first man, Adam, and "man became a living soul." Serving God with all our soul requires us to surrender more than our heart but the very life or breath in that heart. We cease to exist when the breath of life leaves our body. Consider what could happen in our lives if we allow Him to fill our lives completely. I want to be filled with and full of the Holy Spirit! Serving Him with all of my mind seems to be less emotional but just as important. We need to allow Him to help us make decisions and choices for life. It would be a shame to under-plan our lives by not including the Lord in the process. Remember this prayer in the letter to the Philippians, "let this mind be in you, which was also in Christ Jesus." The source of our thoughts and ideas about life need to come from the source of life!
Finally, Jesus wants us to serve Him with all of our strength.
Thankfully this doesn't mean with our biceps or triceps. Many of us would be hopeless if this was the case! Throughout scripture writers described the Lord as being their strength. One way to apply this strength to our lives is the talents and abilities God has given us. He has supplied us with specific gifts and we need to give them to Him. When we give Him all of our strength, He can be glorified and His kingdom multiplied. We do not know the day or the hour, but one day our name will be called at the great graduation day. I want to be sure to fulfill the greatest commandment. He wants our heart, soul, mind and strength. Let's work to meet His requirements!
Justin Reinking joined the General Youth Division in January 2017. Before coming to St. Louis, he was privileged to serve as a member of the Oklahoma Youth Department. He was blessed to serve the OK Youth for nearly 10 years, serving as Sectional Youth leader, Senior Bible Quiz Coordinator, Youth Secretary, and Oklahoma District Youth President for six years. Justin was a full-time Youth Pastor in Dewar, OK for 10 years serving under Pastor Matthew Martin at the Dewar United Pentecostal Church. Justin is an ordained minister of the UPCI and believes in this generation of Apostolic youth. He met his beautiful bride, Kimberly, while traveling in Oklahoma and their relationship grew while attending Indiana Bible College together from 1999-2003. In July 2001, they were married and have three handsome boys: Noah, Elijah, and Micah. The family enjoys sports in the backyard, game nights, and family walks. Justin enjoys running and basketball, and he considers himself a Reuben sandwich connoisseur (see Shapiro's in Indy).