By T. W. Barnes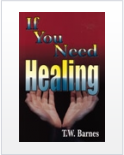 (Prayer) "Precious Father, let you hand be upon everyone who reads this. Richly bless your Word again and may the hearts of people be touched. In Jesus Name, Amen."
We must answer this question either a yes or no before we can be healed: Genesis 18:14: "Is anything too hard for the lord…" If we think something may be too hard for the Lord, our faith is wobbling and it will not work. Remember what He said: Nothing is too hard for Me. If we get anything from Him, we must believe He is the I Am, and He can do whatever we ask. We are on the right read when we pray, Lord, I believe You can and You will.
We find in Luke 11:11, 13: "If a son shall ask bread of any of you that is a father, will he give him a stone… If ye then, being evil, know how to give good gifts unto your children: how much more shall your heavenly Father give the Holy Spirit to them that ask him?" Jesus does not give us scorpions and stones. He loves His children. He is the healer, not the afflicter.
Luke 13:16: "And ought not this woman, being a daughter of Abraham, whom Satan hath bound, lo, these eighteen years, be loosed from this bond on the sabbath day?" This poor woman had been bound, drawn over for eighteen years and Jesus healed her. Jesus said Satan bound her.
In 1 Corinthians 11, the Bible teaches about eating the Lord's Supper unworthily. They came in with sin in their lives and took the Lord's Supper without repenting and for this cause many are weak. Many in the church today may be sick and weak and dying before their time because they are eating and drinking the Lord's Supper unworthily.
1 John 3:8: "…For this purpose the Son of God was manifested, that he might destroy the works of the devil." Now if sickness is the work of God, then Jesus worked against His Father. He healed the sick everywhere He went. He never refused anyone. He came to destroy the works of the devil and He did!
Some of you used to be alcoholics, drug addicts, etc., but today you are free. Jesus came to destroy the works of the devil, and he did in our lives! He only destroys the works of the devil in the individual who repents, but soon He will rid the world of the devil. Right now we do not have to put up with anything unless we want to. Somebody asked why does not the Lord get rid of the devil? He will – real soon. But now He is keeping us praying. If there were no devil to bother us at all, we probably would not be worth much, would not do much. There is something about a battle with the devil that gets us going.
Let us take a look at the work of demons. The Lord called them demons. He found a man with approximately 2,000 demons in him – an unclean spirit called Legion. The Bible tells us that sin caused this. An unclean spirit entered unto this man and drove him crazy. He lived in the tombs. The Lord dealt with it bu calling it what it was.
In Matthew 17:15 we find a lunatic boy. He was insane. He had a spirit that would throw him in the fire. Jesus said it was a devil, not just a spell of some kind, but a devil. The little woman that came to Jesus said my daughter is grievously vexed with a devil. Devils can cause insanity; they can cause blindness; they can cause deafness; they can cause sickness. God help us to stay clean so these spirits cannot get hold of us.
Remember the origin of disease is sin and it comes from the devil. It is not God putting it upon us.
Now there is only one true foundation for faith, only one – the Word of God. I know people think that feelings, dreams, imaginations may be foundations for faith; however, we read in 1 Corinthians 3:11: "For other foundation can no man lay than that is laid, which is Jesus Christ." That is the only foundation Bible faith can work on. I hear people with all kinds of reasons for faith and where they got it. Seeing a miracle doesn't give us faith. It may encourage the faith we already have, but we get faith in one place only. Faith comes by hearing and hearing by the Word of God. We get it from the Word. And the Lord Jesus Christ gave those words to us. We cannot get faith through feeling, dreams, and visions. We must get it from the Bible.
You may be thinking: I am going to the Lord for divine healing; help me with my faith, Preacher, that I might be able to touch the hem of His garment. You can hold on to the things I am writing. Hold on to them for yourself and for your loved ones. You have a Bible right and reason to believe that God will heal you. And the wonderful thing about healing is ti not only covers physical healing, it covers the spiritual healing, emotional healing, family and financial healing – everything you need. If you learn to trust God and get a miracle in your physical body, the same faith works everywhere.
Hebrews 13:8 "Jesus Christ the same yesterday, and to-day, and for ever." He has not changed. When you walk into His presence for something, remember that scripture and quote it. Say, "Lord, I am so glad You put that in the Bible – Jesus Christ the same yesterday, today, and forever. That means You healed then; You will heal not. You saved then; You will save now. That means if You blessed financially then; You will do it now. I have a right to believe You are the same. Amen"
Psalms 103:3: "Who forgiveth all thine iniquities; who healeth all thy disease;" To me this is the greatest promise of all. I love that old song On a hill far away stood an old rugged cross. When I look at the cross, I realize it means salvation for my lost and dying soul and healing for my sick body and resurrection from the dead when the trumpet sounds. The old rugged cross settled it. We can be saved if we want to be saved. We can be resurrected if we die in Christ. This is settled forever and forever. Every once in a while look away to the old rugged cross and you will feel free. He died that I would not have to die. He suffered that I would not have to suffer. He did it all for me and for you. So remember the old rugged cross purchased salvation and healing for you. Matthew 8:17: "…Himself took our infirmities, and bare our sickness." If He did that, why should we go around hurting when He hurt for us?
Pray this: "Lord, I am hurting. You went to Calvary so I wouldn't have to hurt and I receive what You did for me on Calvary."
You see, we try to muster up faith in our own minds; this is mental faith. If we will just take the scriptures – You hurt that I would not have to hurt, Lord. You were sick on the cross so I would not have to be sick. The cross did it fro me. You said in 1 Peter 2:24 "Who His own self bear our sins in His own body on the tree…by whose stripes ye were healed." It is settled. It is done. Praise the Lord! I have a right to believe He will heal me today because He did it in the past and He is the same.
Jesus came to destroy the works of the devil. The first chapter of my book Spiritual Warfare explains Jesus and spiritual warfare. Had He not come and won the first battle, there would have been no need for me to try at all; however, because He won, because He tool the keys of death, hell and the grave, He has them today. Satan does not have them. Jesus has given them to me and to you to use.
Many people today are lonely and blue, sad and worried; I talk to them all the time, day and night. They think they are at the end of their rope with nowhere to go. But there is no such thing as coming to the end of the rope for a Christian. There is no such thing as a dead end for a Christian. Faith always knocks the end out of a dead end street, and we keep going.
Because we have been born again of the water and spirit we have a right as God's children to come into His presence and say, "Father, I am sick or I am broke or I have problems." We have a right to bring Him our needs.
One thing about my home when I was a boy was I didn't have to knock; I just walked in the front door. That was my dad and mom's house. They belonged to me and I belonged to them. And I felt at home. I was at home when I walked in there. And since we are the children of Christ we have a perfect right to walk into His presence anytime we want to.
We sing the song "Greater is He that is in me that he that is in the world." We need to understand the power of the Holy Ghost. The Eternal God of Heaven is so big and so powerful until it would be impossible if He tried to tell us how big and how powerful He is. We could not comprehend it. I cannot comprehend galaxies with a trillion stars in it. The Bible tells us He knows every star and every galaxy by name. And I have found out several times He knows my name. He has called me by name. There is nothing too big and nothing too little for our God. He knows how many hairs are on your head. He knows about the little sparrow that falls upon the ground. When we think of how big He is and how powerful He is, then we ask the big question: Why would You, such a great Eternal Being, come down from heaven and enter our old earthly tabernacles and live inside us to lead and guide us into all truths? Now that is an amazing thing to me. God actually came down here to dwell in us! Once He moves inside us, we don't have to pray Him down. He is already here. We just have to pray, "Let thy will be done, O Lord."
We have only one way to get into the kingdom of God – repentance, but God has chosen many ways to heal. In the Old Testament when the children of Israel ate of the body of the lamb, the day before they left Egypt, every cripple, every sick person, every blind person, received healing. Three million Jews left Egypt and everyone of them in good health. How could this be? They ate of the lamb that represented the broken body of Jesus Christ and were all healed.
The serpents got among the children of Israel and bit them and they were dying. The Lord told Moses to put a serpent on a pole. All they had to do was look on the serpent, and when they looked, they were healed. The swelling left, the poison died. The first just ate of the lamb and got healed. These just looked on a serpent hanging on a pole and were healed. No one would have been healed by saying if He wants to heal me, He can come down here and do it or I think someone may have some kind of drug that will help me, and I will not have to go God's route. No, if they did not look at the serpent they died. When they obeyed, God healed them.
In the New Testament, Jesus sent His Word and healed them. Sometimes He just laid His hands on them they were healed. One touched the hem of His garment and was healed. After Jesus ascended, we read as Peter walked down the street, his shadow fell upon them and they were healed. Paul send out cloths and handkerchiefs and healing came to the sick.
James 5:14-15: "Is any sick among you? Let him call for the elders of the church; and let them pray over him, anointing him with oil in the name of the Lord: And the prayer of faith shall save the sick, and the Lord shall raise him up; and if he have committed sins, they shall be forgiven him." In verse 16 James wrote "…pray one for another that you might be healed." Mark 11:24: "What things soever ye desire, when ye pray believe, that ye receive them, and you shall have them."
Just look at the many ways God has chosen to heal. He knows we human beings need many things. We do not have to find somebody with gifts of healing to be healed. We can pray the prayer of faith our self. When we pray, we must believe we will receive it.
In a long healing line once I prayed for two women who had arm trouble. They had crippled arms and couldn't raise them. To one of them I said, "In the name of Jesus act your faith; raise your arm." She looked at me like you silly man, that's my crippled arm. I can't raise it. She did not even try. The other one had the same problem. When I told her the same thing, she tried to raise her arm. When she tried, it happened. She raised it and God healed her.
Act your faith. Talk your faith. Sing your faith, and pray your faith.
I would love for everyone to understand the miracle power Jesus wants to release in the earth these last days. I wish we could grasp what He really wants. We are witnessing a move of the Holy Ghost in the earth as never before. There never has been a stir in the church world as there is now. In spite of all the evil, everywhere all over the world, the church grows by leaps and bounds. Church people gather together and pray. I walked to a minister who said he attended a service where eighteen thousand people gathered to pray all night. The church world is waking up to the need for prayer. Almighty God is ready to answer the prayers. The more the church prays, the more we wil see miracles and healings happen.
If you would like for the great physician to touch you today, pray this prayer:
"Lord Jesus, I lift my hands to you. I worship you and I love you. I know that at this moment if I release my faith You will release Yours to me and I will be healed. Jesus, I receive my healing in Jesus name. Now, Lord, it is done for Thy glory and I give honor to You. Amen."
At this moment you have the right through faith to expect God to finish the work because you are His child and He does not want you to hurt.
Thank You, Lord, for Your love, and blessings.
The above article is from "If You Need Healing" by T.W. Barnes, pages 31-40.
The material is most likely copyrighted and should not be reprinted under any other name or author. However, this material may be freely used for personal study and research purposes.