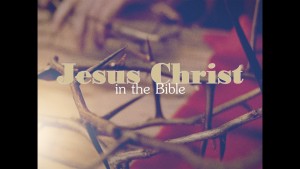 To View the Outline, Click Here
To View the PowerPoint, Click Here
JESUS CHRIST IS IN OLD TESTAMENT PROPHECY:
"And beginning at Moses and all the prophets, he expounded unto them in all the scriptures the things concerning himself" (Luke 24:27).
"To him give all the prophets witness, that through his name whosoever believeth in him shall receive remission of sins" (Acts 10:43).
The Old Testament prophecies all point forward to Jesus Christ giving a great deal of information concerning His coming and His ministry. We shall content ourselves with just a few examples: • Genesis 3:15—Seed of the woman. • Isaiah 7:14—Virgin birth. • Isaiah 53:1-12—Christ's sufferings at Calvary.
Psalm 22:16-18—Piercing His hands and feet; Parting His garments.
There are altogether about one thousand prophecies in the Bible; about eight hundred in the Old Testament and about two hundred in the New Testament. Of those in the Old Testament, no less than three hundred and thirty-three center on Jesus Christ.
JESUS CHRIST IS IN THE OLD TESTAMENT TYPES:
The Old Testament is full of types of which Jesus Christ is almost always the anti-type. Again we shall not attempt in dealing with a large number of these but content ourselves with the consideration of a few examples.
JACOB'S LADDER (Genesis 28).
The word "ladder" really means "stair way." Jacob saw a stairway and angels ascending and descending. There is no other ladder in mentioned in Scripture. The ladder reached to God.
Jesus Christ is the Anti-type as explained in John 1:45-51. Jesus is the ladder by which God came down to man. God was on earth in Christ. If there is no virgin birth than God didn't come down.
Jesus could love you from Heaven, but He couldn't save you from there. The ladder touched earth and Heaven. It was set up on earth by way of the virgin birth. Then it touched Heaven by way of the ascension. Man can never enter Heaven in any other way.
To View the Outline, Click Here