Nicodemus a well-known and respected religious leader, meets with Jesus at night to avoid unfavorable public opinion. He was a Pharisee, which means he was very educated in his religion and practiced it with extreme devotion. He could be compared to a prominent degreed minister pastoring a large church in your city who went to a traveling, unschooled, and poor evangelist to seek counsel because he realized there was more anointing and power to be had.

By Timothy C. Mitchell
To View the Entire Article, Click Here
To Download the Entire Article, Outline, or PowerPoint, Click Here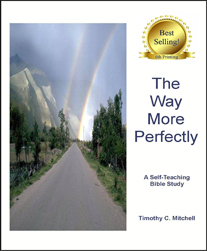 The First Step is "To Believe On the Lord Jesus Christ."
Introduction:
What does it mean when someone is asked to believe on the Lord?
Is salvation joining a Church or accepting Christ?
What does the Bible say we must do in order to be saved?
What was the Original Plan of Salvation given by Jesus and the Apostles?
Believing Results in the New Birth
The Scripture teaches that believing is not complete salvation but rather the first step of the process.
Romans 10:8-13 "But what saith it? The word is nigh thee, even in thy mouth, and in thy heart: that is, the word of faith, which we preach; That if thou shalt confess with thy mouth the Lord Jesus, and shalt believe in thine heart that God hath raised him from the dead, thou shalt be saved. For with the heart man believeth unto righteousness; and with the mouth confession is made unto salvation. For the scripture saith, Whosoever believeth on him shall not be ashamed. For whosoever shall call upon the name of the Lord shall be saved."
There is a very important truth contained in these verses. Everywhere in the Bible where it says to believe on the Lord Jesus, it always says that you shall be saved.' Notice that it does not say you are saved. A verb indicating future action is always used with the word "believe" in the Scriptures. Why? Belief alone does not save; it must be followed by action. James says, "Faith without works is dead." He goes on to explain, "Ye see then how that by works a man is justified, and not by faith only (James 2:14-26.) For example, what would you do if I said, "This house is on fire!" If you replied, "I believe" and did nothing, you would burn to death! Action always follows and confirms our belief. Therefore, simply repeating a statement or confession of faith does not constitute salvation. Believing on the Lord Jesus Christ does not make you a Christian any more than believing you are a doctor instantly turns you into a heart specialist. Believing is faith that you are going to become. Belief must be followed through and confirmed by action. If believing alone saves, then all the devils are saved because they "also believe (in one God) and tremble" (James 2:19)!
Jesus taught that if one is a believer then he should seek God until he receives the
Holy Ghost.
John 7:37-39 "Jesus stood and cried, saying, If any man thirst, let him come unto me, and drink. He that believeth on me, as the scripture hath said, out of his belly shall flow rivers of living water. (But this spake he of the Spirit, which they that believe on him should receive: for the Holy Ghost was not yet given; because that Jesus was not yet glorified.)"
To View the Entire Article, Click Here
To Download the Entire Article, Outline, or PowerPoint, Click Here